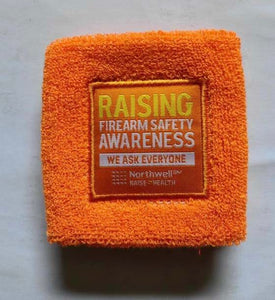 Raising FSA Wristband
This wristband serves as a powerful symbol of Northwell Health's commitment to promoting responsible firearm handling and education. With its sleek design and meaningful purpose, it's a must-have accessory for advocates of firearm safety.
Crafted with precision and attention to detail, this wristband features high-quality materials that ensure durability and comfort throughout its use. The elastic design ensures a perfect fit for wrists of all sizes, allowing you to wear it with pride and spread awareness wherever you go.
But this wristband is more than just a fashionable accessory—it's a reminder of the importance of firearm safety. It serves as a beacon of hope and inspiration, reminding us all to prioritize responsible gun ownership, proper storage, and ongoing education. By wearing this wristband, you become an ambassador for firearm safety, initiating conversations and encouraging others to join the cause.
---